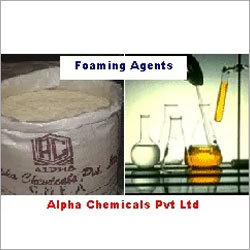 Foaming Agent
Product Code : 37
Product Description
We offer a wide range of foaming agent that is processed from high quality ingredients as per the national and international quality standards. Use of technically advanced machines in the preparation assures the high quality and effectiveness of the foaming agent. To keep the physical and chemical properties intact for a longer period of time, our foaming agent is packed in quality packing.
Products:
1. Coco Diethanolamide
2. Cocomonoethanolamide
Product: Cocodiethanolamide
Specifications:
Appearance

: Pale yellow clear viscous liquid.

Odour : Characteristic

% Free Amine

: 9 Max.

pH : 9.0 to 10.5

Packing : 50/200Kg. HDPE Carboys/ Drums
Applications: It is used as foam booster and viscosity builder.
Product: Cocomonoethanolamide (CMEA)
Specifications:
Appearance : Off white to pale yellow flakes.

% Amide : 90 Min.

% Free Amine : 3.0 Max.

% Free Fatty Acids : 3.0 Max.

pH : 9-10.5

Packing : 25 Kgs. HDPE woven bags.
Salient Features: High purity amide of coconut fatty acid. Enhances & stabilizes the foam.
Very good viscosity booster.
Application: Used in shampoos, shaving creams as Viscosity and foam booster.